To be a naturally curly-haired girl is to accept tango with the devil himself. From the constant styling, that makes your arms as toned as Dwayne 'The Rock' Johnson's biceps to the buns that give you the worst tension headaches and all that lies in between, we wouldn't have it any other way.
As women and especially as black women, our hair is a symbol of the things we have overcome. It is our crown but sometimes the crown don't be crowning and it makes us a bit frustrated. If you're a true naturalist, you'd relate to every single one of the problems that they face on a daily basis.
Running out of product mid-wash
The naturalistas that wash their own hair at home would understand that running out of conditioner or deep conditioner is enough to make you Debbie downer for the rest of wash day. And who likes to stock up on two or three months of conditioner worth? It's basically on a 'buy as and when you need' basis.
Getting scared out of your skin cause you think the black thing moving on the floor is a bug
Thinned-out hair has a tendency to do get-togethers with their other counterparts. This meet and greet of hair when moved by the slightest wind is enough to give you a heart attack.
Slipping in the shower
It looks like all the forces are against you on a wash day. For all the conditioner that slips onto the bathroom floor, expect to slip at least once and hope not to land on your behind.
Getting shampoo in your eyes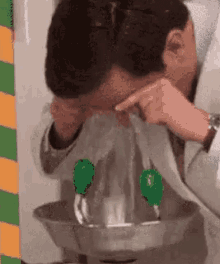 No one. Absolutely no one likes patting around the bathroom with your eyes closed, frantically looking for the towel to wipe your eyes. It's the reason why some people wear goggles during washday. Smart if you ask me.
A failed hairstyle
You saw that cute hairstyle on TikTok or Twitter and decided to try it out. And it doesn't come out the way you want it to. Also, you need to be somewhere in 30 minutes but the current state of your hair? Mad!
With natural hair, it's a love and hate relationship.
Did you relate to any of them? Let us know in the comments!