Obuasi is trending on Twitter and here's why:
A Comfort Bliss took to the streets of Facebook to narrate what her "boyfriend", Richard Agu, put her through.
According to Ms. Comfort, Richard made her use all her life's savings on him. She said she took loans to put him through army school in the hopes that when he starts working, he would take care of her.
Her dreams were destroyed when she saw posts proving that Richard had jilted her and was getting married to someone else on the 20th.
The broken-hearted comfort explained that she had spent all of her life's savings and was owing her bank a large sum of money due to the fact that she supported Richard Agu through army school.
She then said that she would storm the wedding venue with Policemen to take her money back from Richard.
Richard's side of the story
Mr Richard Agu since then, has come out to say that there is no ounce of truth in what Comfort Bliss posted on Facebook.
A violence free wedding
The wedding in spite all the drama, went on as planned without any turbulence or interruptions.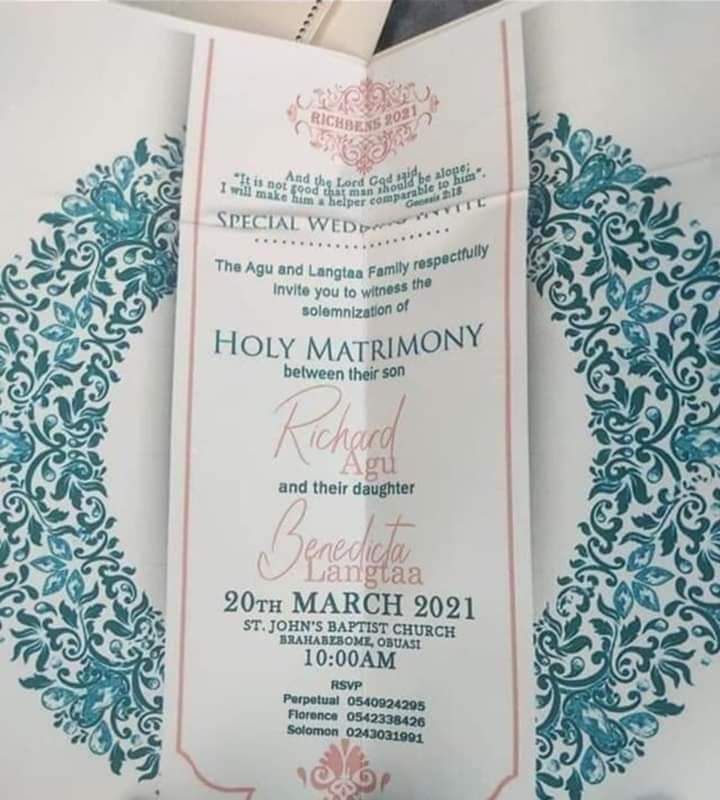 Many photos and videos have flooded social media where Richard is seen, all smiles, dancing with his new wife.
The aftermath
Comfort Bliss, Richard Agu's ex-girlfriend, may not have attended his wedding in Obuasi today, March 20, 2020, as she promised, but she is not giving up her fight to get her money back.
Comfort gave an exclusive interview to Kofi Adoma on Kofi TV shortly after the wedding, which had a large military presence.
She reiterated that Richard indeed owed her money but failed to disclose the exact amount.
She went on to say that while Richard was seen on social media lying about how he owes her nothing, he called her yesterday, March 19, 2021, to beg her and promise that he will come and pay all of the money he owes her because he does not want to lose his job.
Comfort Bliss went on to say that she is patiently waiting for Monday to arrive. If Richard does not keep his promise to her, she would leak all secret audios she has of him as well as take legal action against him.